Fresh off the Hollywood assembly line of movies glorifying gun-toting supermen who uphold the law, comes a movie that is as different from any other one in its genre as chalk is from chalk. But do we care? Hell, no.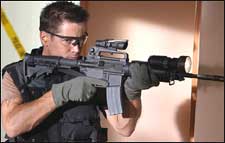 SWAT is supposedly the most honored, respected and professional Police Division in the whole world. Considering what we get to compare it with, that is an unfair advantage. Anyway, it is what the Cops turn to when they find themselves up against a closed alley, which going by the movie happens almost every other day.

Jim Street (Collin Farrell) is at the top of the Captain's crap heap - to be that hotshot guy in LAPD you have to be, right? He is reassigned to the gun-cage - a polite way of putting 'desk job'. In comes Sergeant Dan 'Hondo' Harrelson (Samuel L Jackson), who has been reassigned to LAPD by the Chief of Police to assemble the best possible team he can. This guy, we are told, revels in running down the Captain any chance he gets.

So, among other people, he also selects our very own Jim, and Chris (Michelle Rodriguez) - that is because the Captain, like many other men in uniform, has this aversion to anything that has lower weight and higher IQ than him. It is back to training school where we realise that it is not just the target practice dummies that develop holes in them - the plot does too.

The LAPD comes to know that they have some really nasty guy who is wanted all over the world for crimes so serious that it could deface all of humanity. The newly assembled team is assigned the mission of escorting this guy to the State Penentiary. Seems a routine job, except that this bad guy has offered anyone who gets him out a reward of a 100 million greenbacks.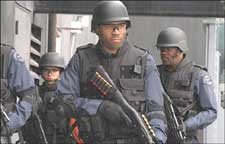 That is when the primary purpose for which you are watching the movie starts getting fulfilled. There are chases and guns, and more chases and more guns. To top it off, you also get to see a plane landing on a bridge - something I am sure you have never seen before.

Besides the guns and the action, there is nothing more you would find in the film - something that is a big plus. It is when the scriptwriters start getting serious ideas of making a film that would attain critical acclaim and add some senti stuff in an action movie that things get bungled. Just bring on the action, dude! And, like hell they do!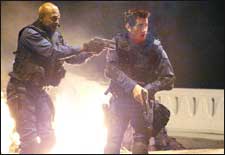 Performance-wise, there ain't much you get to write about in films of this genre - except may be which actor could not succeed in keeping a straight face through the film. All of them do, so that is a battle won. But it is the background score that is absolutely fantastic. It keeps you in the groove of the movie throughout.

It is one of those films that guys would really root for, though I am not too sure their girls would reciprocate their enthusiasm.